Critical analysis refers to the ability to examine something in detail in preparation to make an evaluation or judgment.
It will involve exploring underlying assumptions, theories, arguments, evidence, logic, biases, contextual factors, and so forth, that could help shed more light on the topic.
In essay writing, a critical analysis essay will involve using a range of analytical skills to explore a topic, such as:
Evaluating sources
Exploring strengths and weaknesses
Exploring pros and cons
Questioning and challenging ideas
Comparing and contrasting ideas
If you're writing an essay, you could also watch my guide on how to write a critical analysis essay below, and don't forget to grab your worksheets and critical analysis essay plan to save yourself a ton of time:
Grab your Critical Analysis Worksheets and Essay Plan Here
An Important Note:
A critical analysis isn't just about pointing out the negatives (that would be
criticism
). Rather, the goal is to look at both pros and cons, strengths and weaknesses, etc. to come to a thoughtful position on a topic.
Your final judgment could be positive, not just negative – the key is that it's thoughtful, logical and balanced.
Critical Analysis Examples
1. Exploring Strengths and Weaknesses
Perhaps the first and most straightforward method of critical analysis is to create a simple strengths-vs-weaknesses comparison.
Most things have both strengths and weaknesses – you could even do this for yourself! What are your strengths? Maybe you're kind or good at sports or good with children. What are your weaknesses? Maybe you struggle with essay writing or concentration.
If you can analyze your own strengths and weaknesses, then you understand the concept. What might be the strengths and weaknesses of the idea you're hoping to critically analyze?
Strengths and weaknesses could include:
Does it seem highly ethical (strength) or could it be more ethical (weakness)?
Is it clearly explained (strength) or complex and lacking logical structure (weakness)?
Does it seem balanced (strength) or biased (weakness)?
You may consider using a SWOT analysis for this step. I've provided a SWOT analysis guide here.
2. Evaluating Sources
Evaluation of sources refers to looking at whether a source is reliable or unreliable.
This is a fundamental media literacy skill.
Steps involved in evaluating sources include asking questions like:
Who is the author and are they trustworthy?
Is this written by an expert?
Is this sufficiently reviewed by an expert?
Is this published in a trustworthy publication?
Are the arguments sound or common sense?
For more on this topic, I'd recommend my detailed guide on digital literacy.
3. Identifying Similarities
Identifying similarities encompasses the act of drawing parallels between elements, concepts, or issues.
In critical analysis, it's common to compare a given article, idea, or theory to another one. In this way, you can identify areas in which they are alike.
Determining similarities can be a challenge, but it's an intellectual exercise that fosters a greater understanding of the aspects you're studying. This step often calls for a careful reading and note-taking to highlight matching information, points of view, arguments or even suggested solutions.
Similarities might be found in:
The key themes or topics discussed
The theories or principles used
The demographic the work is written for or about
The solutions or recommendations proposed
Remember, the intention of identifying similarities is not to prove one right or wrong. Rather, it sets the foundation for understanding the larger context of your analysis, anchoring your arguments in a broader spectrum of ideas.
Your critical analysis strengthens when you can see the patterns and connections across different works or topics. It fosters a more comprehensive, insightful perspective. And importantly, it is a stepping stone in your analysis journey towards evaluating differences, which is equally imperative and insightful in any analysis.
4. Identifying Differences
Identifying differences involves pinpointing the unique aspects, viewpoints or solutions introduced by the text you're analyzing. How does it stand out as different from other texts?
To do this, you'll need to compare this text to another text.
Differences can be revealed in:
The potential applications of each idea
The time, context, or place in which the elements were conceived or implemented
The available evidence each element uses to support its ideas
The perspectives of authors
The conclusions reached
Identifying differences helps to reveal the multiplicity of perspectives and approaches on a given topic. Doing so provides a more in-depth, nuanced understanding of the field or issue you're exploring.
This deeper understanding can greatly enhance your overall critique of the text you're looking at. As such, learning to identify both similarities and differences is an essential skill for effective critical analysis.
My favorite tool for identifying similarities and differences is a Venn Diagram:
To use a venn diagram, title each circle for two different texts. Then, place similarities in the overlapping area of the circles, while unique characteristics (differences) of each text in the non-overlapping parts.
6. Identifying Oversights
Identifying oversights entails pointing out what the author missed, overlooked, or neglected in their work.
Almost every written work, no matter the expertise or meticulousness of the author, contains oversights. These omissions can be absent-minded mistakes or gaps in the argument, stemming from a lack of knowledge, foresight, or attentiveness.
Such gaps can be found in:
Missed opportunities to counter or address opposing views
Failure to consider certain relevant aspects or perspectives
Incomplete or insufficient data that leaves the argument weak
Failing to address potential criticism or counter-arguments
By shining a light on these weaknesses, you increase the depth and breadth of your critical analysis. It helps you to estimate the full worth of the text, understand its limitations, and contextualize it within the broader landscape of related work. Ultimately, noticing these oversights helps to make your analysis more balanced and considerate of the full complexity of the topic at hand.
You may notice here that identifying oversights requires you to already have a broad understanding and knowledge of the topic in the first place – so, study up!
7. Fact Checking
Fact-checking refers to the process of meticulously verifying the truth and accuracy of the data, statements, or claims put forward in a text.
Fact-checking serves as the bulwark against misinformation, bias, and unsubstantiated claims. It demands thorough research, resourcefulness, and a keen eye for detail.
Fact-checking goes beyond surface-level assertions:
Examining the validity of the data given
Cross-referencing information with other reliable sources
Scrutinizing references, citations, and sources utilized in the article
Distinguishing between opinion and objectively verifiable truths
Checking for outdated, biased, or unbalanced information
If you identify factual errors, it's vital to highlight them when critically analyzing the text. But remember, you could also (after careful scrutiny) also highlight that the text appears to be factually correct – that, too, is critical analysis.
8. Exploring Counterexamples
Exploring counterexamples involves searching and presenting instances or cases which contradict the arguments or conclusions presented in a text.
Counterexamples are an effective way to challenge the generalizations, assumptions or conclusions made in an article or theory. They can reveal weaknesses or oversights in the logic or validity of the author's perspective.
Considerations in counterexample analysis are:
Identifying generalizations made in the text
Seeking examples in academic literature or real-world instances that contradict these generalizations
Assessing the impact of these counterexamples on the validity of the text's argument or conclusion
Exploring counterexamples enriches your critical analysis by injecting an extra layer of scrutiny, and even doubt, in the text.
By presenting counterexamples, you not only test the resilience and validity of the text but also open up new avenues of discussion and investigation that can further your understanding of the topic.
See Also: Counterargument Examples
9. Assessing Methodologies
Assessing methodologies entails examining the techniques, tools, or procedures employed by the author to collect, analyze and present their information.
The accuracy and validity of a text's conclusions often depend on the credibility and appropriateness of the methodologies used.
Aspects to inspect include:
The appropriateness of the research method for the research question
The adequacy of the sample size
The validity and reliability of data collection instruments
The application of statistical tests and evaluations
The implementation of controls to prevent bias or mitigate its impact
One strategy you could implement here is to consider a range of other methodologies the author could have used. If the author conducted interviews, consider questioning why they didn't use broad surveys that could have presented more quantitative findings. If they only interviewed people with one perspective, consider questioning why they didn't interview a wider variety of people, etc.
See Also: A List of Research Methodologies
10. Exploring Alternative Explanations
Exploring alternative explanations refers to the practice of proposing differing or opposing ideas to those put forward in the text.
An underlying assumption in any analysis is that there may be multiple valid perspectives on a single topic. The text you're analyzing might provide one perspective, but your job is to bring into the light other reasonable explanations or interpretations.
Cultivating alternative explanations often involves:
Formulating hypotheses or theories that differ from those presented in the text
Referring to other established ideas or models that offer a differing viewpoint
Suggesting a new or unique angle to interpret the data or phenomenon discussed in the text
Searching for alternative explanations challenges the authority of a singular narrative or perspective, fostering an environment ripe for intellectual discourse and critical thinking. It nudges you to examine the topic from multiple angles, enhancing your understanding and appreciation of the complexity inherent in the field.
A Full List of Critical Analysis Skills
Exploring Strengths and Weaknesses
Evaluating Sources
Identifying Similarities
Identifying Differences
Identifying Biases
Hypothesis Testing
Fact-Checking
Exploring Counterexamples
Assessing Methodologies
Exploring Alternative Explanations
Pointing Out Contradictions
Challenging the Significance
Cause-And-Effect Analysis
Assessing Generalizability
Highlighting Inconsistencies
Reductio ad Absurdum
Comparing to Expert Testimony
Comparing to Precedent
Reframing the Argument
Pointing Out Fallacies
Questioning the Ethics
Clarifying Definitions
Challenging Assumptions
Highlighting Missing Information
Demonstrating Irrelevance
Assessing Effectiveness
Assessing Trustworthiness
Recognizing Patterns
Differentiating Facts from Opinions
Analyzing Perspectives
Prioritization
Hypothesis Testing
Making Predictions
Conducting a SWOT Analysis
PESTLE Analysis
Asking the Five Whys
Correlating Data Points
Finding Anomalies Or Outliers
Comparing to Expert Literature
Drawing Inferences
Assessing Validity & Reliability
Analysis and Bloom's Taxonomy
Benjamin Bloom placed analysis as the third-highest form of thinking on his ladder of cognitive skills called Bloom's Taxonomy.
This taxonomy starts with the lowest levels of thinking – remembering and understanding. The further we go up the ladder, the more we reach higher-order thinking skills that demonstrate depth of understanding and knowledge, as outlined below: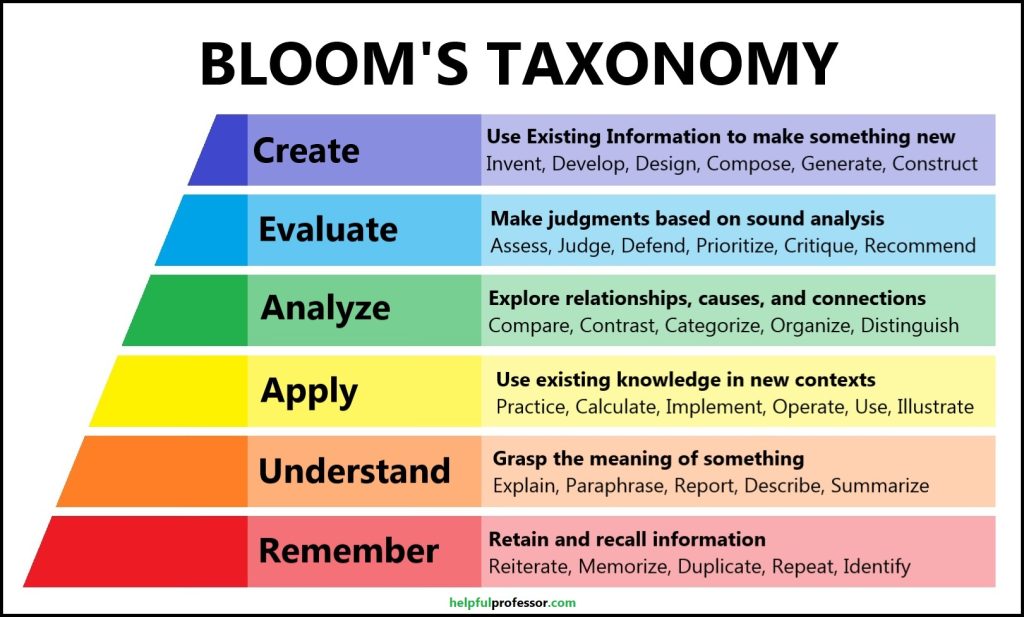 Here's a full outline of the taxonomy in a table format:
| Level (Shallow to Deep) | Description | Examples |
| --- | --- | --- |
| Remember | Retain and recall information | Reiterate, memorize, duplicate, repeat, identify |
| Understand | Grasp the meaning of something | Explain, paraphrase, report, describe, summarize |
| Apply | Use existing knowledge in new contexts | Practice, calculate, implement, operate, use, illustrate |
| Analyze | Explore relationships, causes, and connections | Compare, contrast, categorize, organize, distinguish |
| Evaluate | Make judgments based on sound analysis | Assess, judge, defend, prioritize, critique, recommend |
| Create | Use existing information to make something new | Invent, develop, design, compose, generate, construct |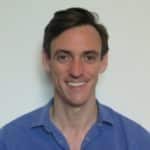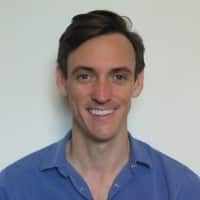 Dr. Chris Drew is the founder of the Helpful Professor. He holds a PhD in education and has published over 20 articles in scholarly journals. He is the former editor of the Journal of Learning Development in Higher Education. [Image Descriptor: Photo of Chris]