About the Author:
Hi, I'm
Chris Drew
, a university professor, and I run things around here. As an Amazon Associate I earn from qualifying purchases.
My Top Pick
Wanjiaone Color Changing Study Lamp
My pick for the best desk lamp for studying is the Wanjiaone Color Changing Study Lamp due to its tech integration. Get this one if you like the idea of charging your phone from the desk lamp. Also has a great pen & pencil organizer.
While the above lamp is my pick, we're all different, so I've listed 7 with a range of different benefits and features. My shortlist of the best desk lamps for college students is below, followed by reviews of each:
Wanjiaone Study USB Lamp
IdeaWorks Portable Desk Lamp
HAITRAL Desk Lamp
Bella Home Desk Lamp with Message Board
Desk Clamp Architect Lamp
HAITRAL Bedside Table Lamp
Marrado Speaker Lamp
Best Desk Lamps for College Students
1. Wanjiaone Color Changing Study Lamp
Quick Review: I love how practical this one is! It has a pen holder, clock and phone charger included. It's really a desk hub more than a lamp!
There's so much to like here. The base of this lamp lights up in a full spectrum of different colors. You can set the color or let it rotate colors for a funky mood. Set the alarm clock, listen to the time, charge your phone, store your pens, and set the light to three 'dimming' levels. But, it's annoying that the alarm clock can only be set from the base.
Benefits for Students:
Set the Color Mood: Choose the color of the lamp's glow. There is a 360 degree touch pad where you can literally tap the color on the color wheel to choose your color. Super cool.
USB: Charge your tablet or phone while you study or sleep.
Alarm Clock: I love that it tells you the time and even sets an alarm.
Pen Holder: You can store your pens, helping you to keep organized.
Dimmable: Set the lighting level by tapping the on/off button to toggle.
Keep in Mind:
Alarms Settings on the Base: Okay, it was bad design that you have to set the alarm clock from the base. You literally have to pick it up and turn it upside down to set the alarm. That would be fine … except that your pens all fall out of the pen holder when you tip it!
2. Marrado Speaker Lamp
Quick Review: For the music loves, turn your light into a speaker. 
This one's the whole package. Best for the tech-savvy student. It comes with a rechargeable battery, plays music straight from your smartphone, and shines light in multiple colors. It's great for setting the mood in your dorm room. Be sure to keep it plugged in as the battery drains fast.
Benefits for Students:
Plays Music: Obviously the coolest aspect of this one is that it has a built in speaker.
Timer: Set it to play while you fall asleep, then it turns off at a set time.
Multiple Colors: You can set the color of the light: white, blue, red, etc.
Dimmable: You can dim the light for mood lighting.
Cordless: Comes with an internal battery.
Keep in Mind:
Battery Drains: The bluetooth drains the battery fast when you're not plugged in.
3. Edison Table Lamp
Quick Review: Get this one if you want a simple stylish look. It has the industrial look that is really popular at the moment.
I chose this one on the list because I'm a fan of the look of it. I also like that it is really simplistic. It is a minimalist design, but for the simplicity and style you're sacrificing some other options. There is no option to plug in your phone or computer for charging, it doesn't tell the time, and it's not dimmable. It's a basic lamp – but that is the minimalist look that this lamp is going for, so I can't criticize it!
Benefits for Students:
Sleek Modern Design: The industrial look is popular at the moment, and this lamp could give your dorm room a lot of style.
Simplicity: No bells and whistles, just a lamp!
Keep in Mind:
No Bulb: You'll have to buy a E26 bulb as it doesn't come with one. I guess that's to keep the cost down and prevent breakage in transit.
4. AmazLit Desk Lamp with Clamp
Quick Review: Get this one if you're after a lamp that clamps to the side of your desk. It is great for artists as it really reaches over you and shines right down over your work.
This lamp appeals to the minimalist who wants as much space on the desk as possible to spread out their work. It's great for draftsmen, architects or arts students who need as much canvas space as possible. I like how long the light is, meaning it shines good light all over your work. A good design, with dimming options as a cherry on top.
Benefits for Students:
Desk Clamp: The biggest feature here is that this one doesn't have a base: you clamp it to the edge of your desk.
Adjustable Color Temperature: I love that you can adjust the 'color temperature', which really changes the mood in the room.
Long Light: I love the that lamp is long so that shines over your whole project.
Night Light Timer: You can set it to turn off in X minutes (10, 30, 40, etc.) so you can fall asleep with the light on.
Very Sturdy and Maneuverable: You can really adjust it to get it shining on your work at the perfect angle. The joints are really sturdy, which is something that will usually worry me about a multi-jointed lamp like this one.
5. HAITRAL Bedside Table Lamp
Quick Review: A simple lamp with a cover so it emits ambient light rather than direct light over your work. Best for people who like soft lighting.
I chose this simple lamp as a good mood lighting option. It's an alternative to the bright, direct lighting of other lamps on this list. Choose this one if you prefer ambient lighting and hate that harsh direct light feeling. It gives your dorm room a warm feel.
Benefits for Students:
Soft Light: You won't get a direct sharp light of a normal desk lamp.
Warmth: It creates a warm, comfortable feeling in the room.
Keep in Mind:
Not Direct Lighting: If you prefer direct light onto your papers, this isn't the one for you. In fact, it's more a bedside table lamp than a desk lamp.
On / Off Switch: The switch is on the cord – you may not like this (personally I prefer it on the base of the lamp itself).
6. IdeaWorks Portable Desk Lamp
Quick Review: Best for people who want a portable desk lamp, such as college students always on-the-go or living in dorms.
The biggest benefit of this lamp is you can bring it with you to the library or where ever you're studying. It runs off 4x AA batteries, or if you have a power source, just plug it in to run it direct. It is small, compact, and portable. But, I was looking for an actual desk lamp, so I was more inclined to get one that is designed to just sit on my desk indefinitely.
Benefits for Students:
Battery Powered: Use it even when you don't have power – runs of 4x AA batteries, or plug it into a power source to run it via USB.
Very Affordable: You can't get much cheaper than this!
Packable: Pack it away into a tiny pack to transport it or store it in the top drawer.
Magnifying Glass: Look, I never really thing "oh, I wish I had my magnifying glass" … but if you ever do, then here's your lamp.
Keep in Mind:
Not my Style: I included this in the list as an affordable packable option. But really, I want a stylish looking desk lamp. This isn't my style.
What to Look for in a Desk Lamp
Dimmable Light
One of the most important things I look for in a lamp is whether it dims. The ability to dim the light helps you to control how harsh it is.
It will also give you the options to 'set the mood' in your dorm room.
A good lamp should have at least three dimming capacities – including a 'night light' option. Some even have a timer so that you can set the night light to turn off after a certain amount of time to help you get to sleep.
Device Connectivity
Many modern lamps can connect to your devices.
I like the idea of having a lamp that can charge your devices. This makes finding a charging port near your work space really easy and convenient.
The other device connectivity option is to have it connect to speak to your phone. For example, the Marrado Speaker lamp has an in-built speaker and bluetooth connectivity so you can play music from your phone – through your lamp!
Size
Lamp size matters if you don't want to soak up desk space unnecessarily. Most lamps have simple bases that sit on the desk – which is usually fine.
But you can also get a clamp lamp which clamps to the edge of your desk – saving space.
Lastly, there is the option of a small portable lamp with in-built battery that you can pick up and move around your desk at ease. The option of a small lamp portable lamp will also be great if you want to carry it with you to any study space you need.
Clock
Many lamps also have in-built digital clocks. This can save space so you don't have to have a clock and a lamp. Further, it can solve two issues at once: if you don't have a clock in your room, get a clock-lamp combo!
Lamp clocks may also have an alarm – and let's face it, college students often need that alarm to get up for an early class!
Final Thoughts
I hope this list of the best lamps for students has helped you make a decision. If you're a college student, don't forget that I have recommendations for other student products, such as the best board games for college students, best voice recorders for lectures, best shower caddies for your dorm, and best safes for dorms.
Good luck with your studies, and thanks for visiting!
– Prof. Chris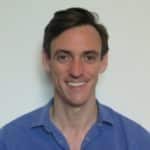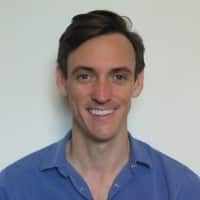 Dr. Chris Drew is the founder of the Helpful Professor. He holds a PhD in education and has published over 20 articles in scholarly journals. He is the former editor of the Journal of Learning Development in Higher Education. [Image Descriptor: Photo of Chris]